The day after thousands marched against Wall Street banks in NY, over 2000 people are marched through downtown LA to protest Wall Street banks for destroying jobs and neighborhoods with their greedy, reckless and predatory business practices. The LA march is sponsored by the ReFund California campaign.
The intersection of Figueroa and 7th outside Bank of America was overtaken by marchers while 11 people occupied Bank of America in downtown LA, refusing to leave until Bank of America commits to keep families in their homes, pay their fair share of taxes and help rebuild hard-hit neighborhoods.  When they refused to leave they were arrested by LAPD.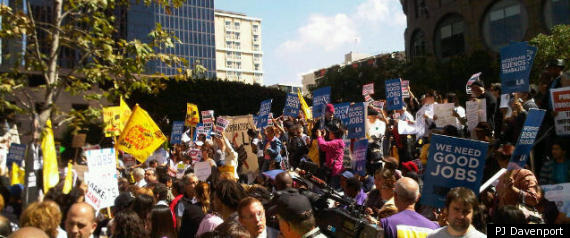 Read the article in the LA Times ,"Bank protesters arrested after trying to cash $673-billion check"
Meanwhile, outside the bank, homeowner Rose Gudiel, a member of the Alliance of Californians of Community Empowerment (ACCE) and the ReFund California campaign, who was arrested at a Fannie Mae office in Pasadena protesting a foreclosure announced in front of the crowd that one day after being arrested at Fannie Mae that her eviction has been halted and she is meeting with Fannie Mae to discuss a modification of her loan.
The week of action and today's march got dozens of mentions in the press.  As Rose Gudiel said, "I hope that the banks will change their policies to stop taking the homes the thousands of hardworking families facing preventable foreclosure. This is only the beginning."
 Watch this clip from the march:
If you haven't already, join the Make Wall Street Banks Pay Facebook page for regular updates on the campaign.
Do you like this post?